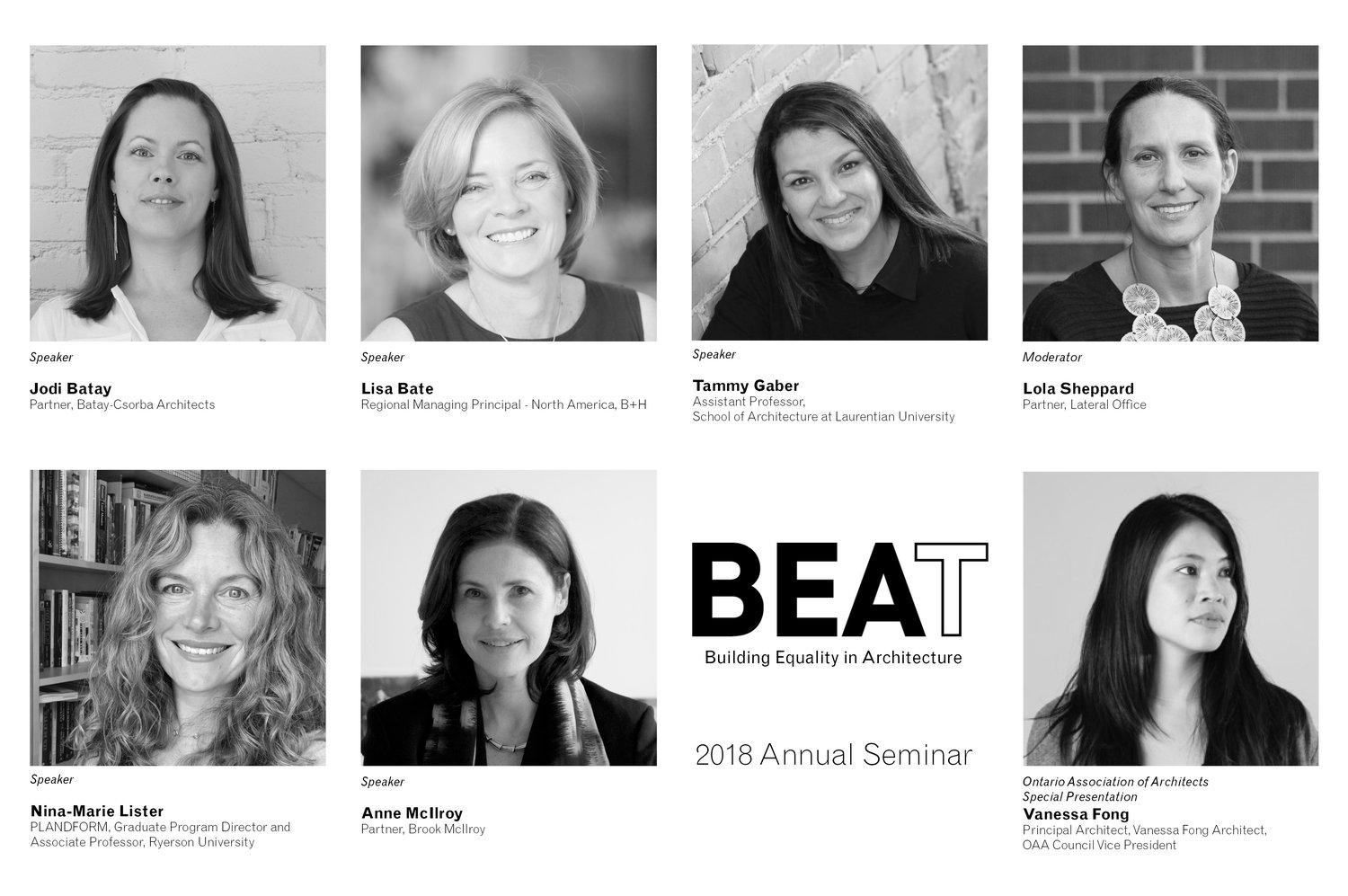 BEAT's fourth annual seminar is devoted to exposing students and young practitioners to leaders in the architectural profession. From sole practitioners and partners in Toronto's leading design firms to academics, we will hear from women who have established careers in planning, urban design, architecture, landscape architecture and interior design. The seminar is open to both students and recent graduates who intend on practicing or teaching in these fields.
Presenters
Speakers
Jodi Batay- Csorba Partner, Batay-Csorba Architects
Break out session and Office Tour: Batay-Csorba Architects studio
Lisa Bate Regional Managing Principal - North America, B+H
Building Tour: University of Toronto Jackman Law Building (Faculty of Law)
Tammy Gaber Assistant Professor, School of Architecture at Laurentian University
Break out session: Daniels Spectrum, Artscape Lounge
Nina-Marie Lister PLANDFORM, Graduate Program Director and Associate Professor, Ryerson University
Break out session: TBC
Anne McIlory Partner, Brook McIlroy
Break out session: Daniels Spectrum, Second Floor, Artscape Lounge
Moderator
Lola Sheppard Partner, Lateral Office
Special Presentation on Behalf of the Ontario Association of Architects
Vanessa Fong Principal Architect, Vanessa Fong Architect and OAA Council Vice President
Additional building tour of Daniels Spectrum will be hosted by Jennifer Mallard of Diamond Schmitt Architects.
Schedule & Details
Saturday, January 20
Daniels Spectrum
585 Dundas Street East
Toronto, ON M5A 2B7
Registration | 9:30 am – 10:30 am
Seminar | 10:30 am – 12:30 pm
Lunch and Networking | 12:30 pm – 1:30 pm
Tours / Break out session | 2:00 pm – 3:30 pm
Lunch will be provided by BEAT. Tours and break out sessions are led by seminar speakers. Sign up is on a first-come, first-served basis on the day of the seminar.
This event has been generously sponsored by the Ontario Association of Architects and Artscape.